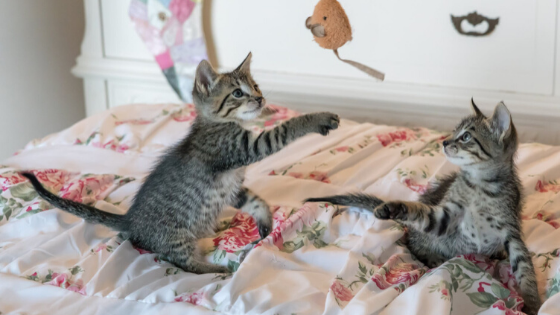 Since our Lake Oswego, OR apartments are pet-friendly, we see lots of furry friends come through our community. Sure, some of our residents purchase toys for their four-legged family members from stores, but others have found ways to keep their kitties entertained using DIY methods. With that in mind, we thought we'd share a few ideas with you.
1. Yarn Ball Catnip Toys
Using a Styrofoam ball and every cat's favorite treat, you can easily create a sensation that'll keep your cat entertained for hours. The trick here is using a little hot glue and strips of yarn to mask the Styrofoam and make it irresistible to your feline friend.
2. DIY Cat Tent
If you think your favorite holey t-shirt has seen its last leg, think again, our friend. When you're creating a DIY cat tent, that ratty old t-shirt can come in handy and breathe new life into a piece of fabric that's given you so many memories already. Two wire coat hangers do most of the work, while the fabric simply drapes over the shape you'll create when the hangers are attached to cardboard. The end result is a hidey-space any cat would love to have in its home.
3. Toilet Roll Treat Dispensers
Don't toss out your empty Charmin rolls just yet! Your fuzzball can have a great playdate with the cardboard that's left over. Put a few bite-sized treats into an empty toilet paper roll, then fold both ends, making sure to leave enough space so that the treats can come out when the toy is played with properly. When you're closing it up, don't fold the second tab all the way in, so the treats have a way to make it out onto the floor.
4. Hanging Cat Scratch Post
Put new life into old wood by wrapping some sisal rope around it in a way that will make kitty happy. This DIY scratching post enables your cat to unleash his natural tendencies without tearing up your rugs or furniture. Plus, it looks pretty on the wall when it's made correctly.
Are you searching for a pet-friendly apartment in Lake Oswego? We're glad you've found Kruseway Commons! Be sure to check out our available floor plans today!