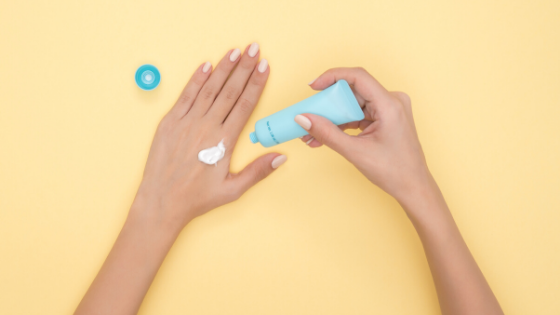 One of the main causes of dry skin in the winter is the lack of moisture in the air. The cold and dry days that are common during low humidity seasons – along with indoor heating can cause flaky patches or cracked skin. This is also when itchy red patches of skin that are common with eczema can flair up. Summer isn't the only time to stay hydrated. Drinking plenty of water is a great idea during the fall and winter months also.
Easy Ways to Fight Dry Skin
If you already see the signs of winter skin dryness, here are 3 tips to help maintain body moisture and keep your skin healthy and soft during the winter.
1. Avoid hot showers and long baths
A hot shower to break the morning chill or a long soak in a hot tub of water to relax you at night may sound great, but hot showers and long baths are two of the main contributors to dry skin in the winter. Both of these can strip the protective coating of natural oils from your skin, leaving you with alligator-like skin texture.
In winter, use warm water, not hot water for showering and bathing. Keep these water cleanings to under 10 minutes. Follow up with a pat dry and a hydrating body moisturizer with nutrient-dense natural ingredients like coconut oil, avocado oil, or Shea Butter.
2. Use a gentle, fragrance-free cleanser
Avoid using a body and facial wash with excessive surfactants that increase foaming and lather in cleansers. They also attract both oil and water away from your skin. Avoid harsh, antibacterial washes or soaps unless you have a dermatological need. Even deodorant soaps contain stronger detergents that can remove the natural oils from your skin – leaving it more sensitive to the drying effects of the winter air.
Switch to a fragrance body wash that is gentle on the skin and does not strip the body of its natural protective oils. The organic products with simple ingredients are a better choice for winter months. Make sure you rinse all the soap from your body before drying.
3. Eat foods rich in omega-3 fatty acids
If you want healthy skin, you must feed it well with foods that are rich in Omega-3 fatty acids such as salmon, mackerel, flax seeds, chia seeds, walnuts, and anchovies. According to WebMD:
"Among the most important to having healthy skin, she says, are foods containing the powerful antioxidant known as lycopene…the best sources include tomato products, guava, watermelon, and red papaya. Other important skin foods to include in your diet, she says are sweet potatoes, blueberries, and strawberries."
If you're looking to live in Metropolitan Portland's most prestigious suburban landscape, visit us at Kruseway Commons Apartments in Lake Oswego to arrange a tour of our spacious one-, two-, and three-bedroom apartments.